SFX Samoyeds News
"All the news that's fit to pawprint"
Sookie Puppies!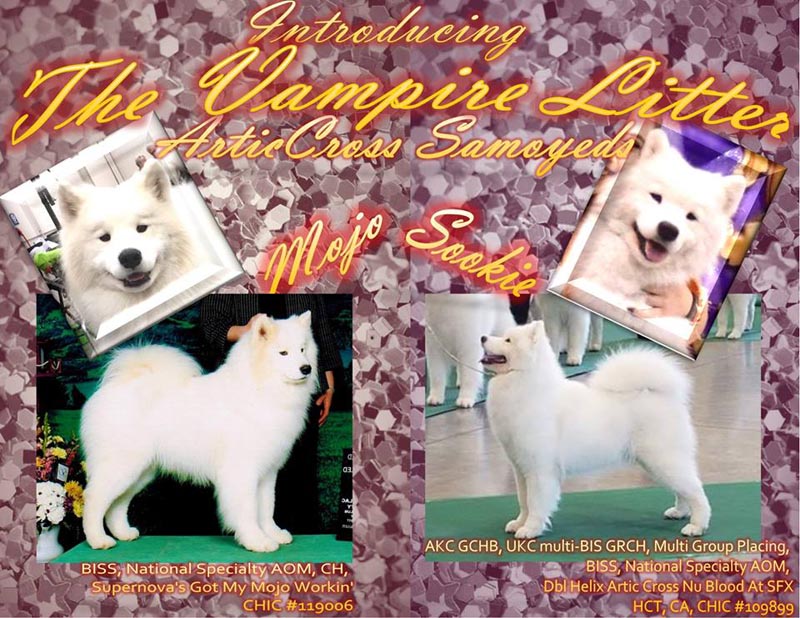 We are happy to announce the arrival of the exceptional combination of Mojo and Sookie! 6 boys and 1 girl were born on February 23, 2019. Momma Sookie and all of the little ones are doing well. We expect great things as these puppies grow!





Newest Titlist!



On January 18, 2019, new AKC Championship achieved for

UKC GRCH SFX Bazinga! CA

, daughter of

AKC CH/UKC GRCH SFX Time Bandit CA

and

AKC GCH UK GRCH SFX Treasure's Trove CA

. Thank you to judge Dr. Andrea Bradford for seeing past Zinga's being out-of-coat to award her the final major needed, with Winners Bitch, Best of Winners, and Best of Breed Owner-Handled!


2018 SCA National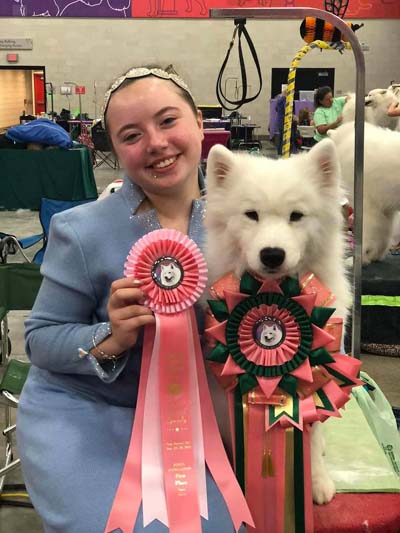 Sookie got an Award of Merit at the 2018 SCA National (her second AOM in as many years!) and her co-owner Kendra Williams went Best Junior with Sookie at the National.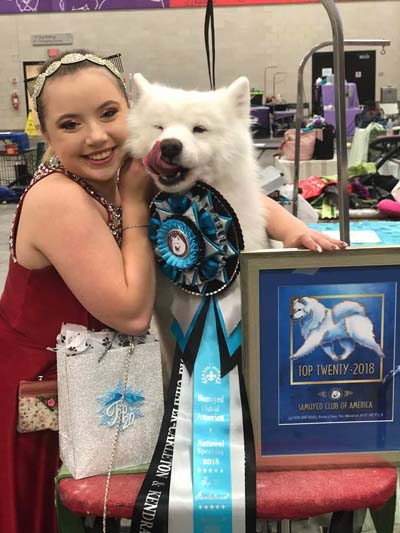 They also qualified for and competed in the Top Twenty at the National!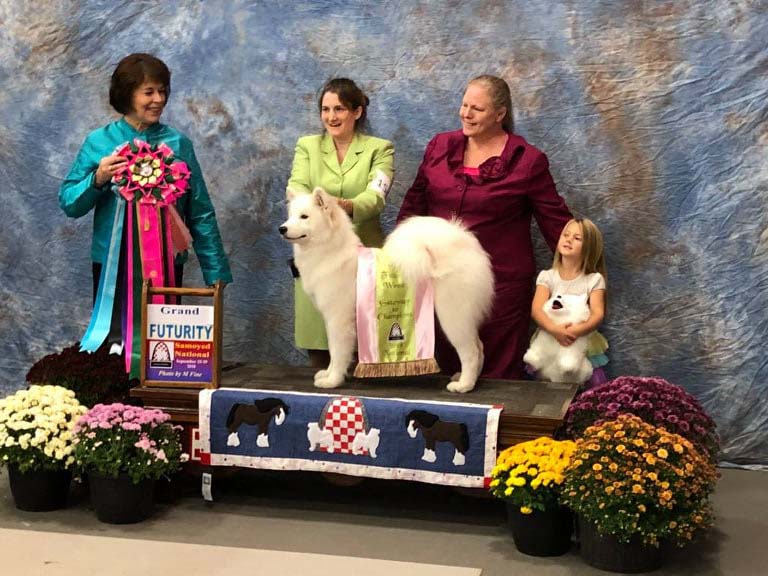 Jean-Luc's daughter Mica won Best in Futurity puppy for her breeder-owner Gina Cashen! Grandmother Sookie won Grand Futurity in 2011!



Lilliah

Jean-Luc's daughters out of Gina's Keeki placed as follows. Bred by Gina Cashen, who owns Mica and co-owns Lilliah with Dana Baker.

Mica was Grand Futurity from 12-15 month class, Lilliah 3rd in futurity 12-15. Sweepstakes Mica 2nd 12-15 and Lilliah 3rd in 13-15.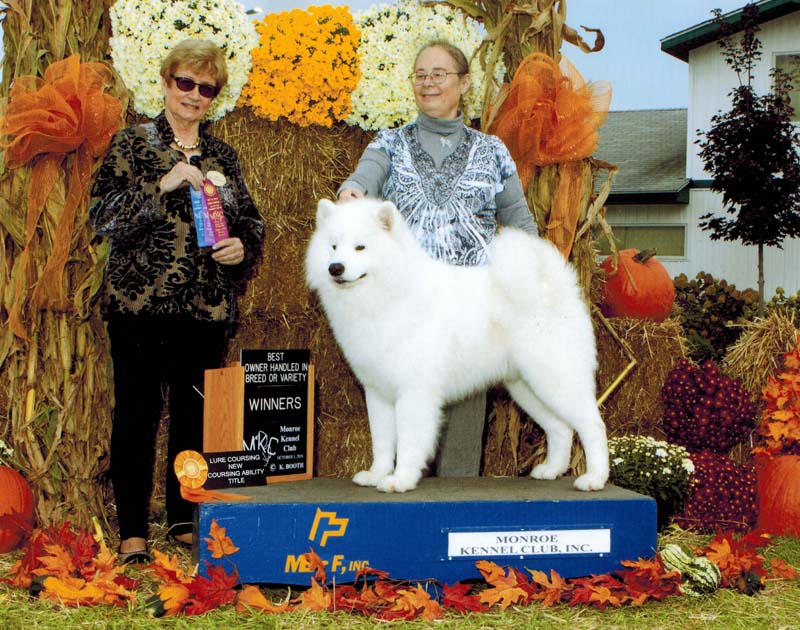 AKC CH/UKC GRCH SFX ArticCross Make It So, AKC CA

Jean-Luc got a new lure coursing ability title in 2016!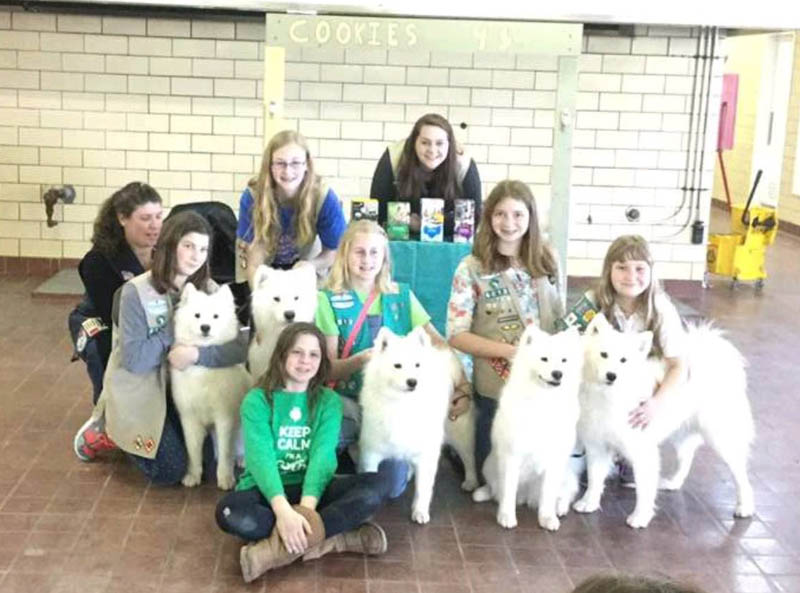 SFX Samoyeds and Girl Scouts at the UKC shows put on by One Paw Forward in Jackson, Michigan, April 3rd 2016!


LORI'S LINKS
10 Things You Probably Didn't Know About The Smiling Samoyed
Pam Barbe's Samoyed health pages
California Responsible Pet Owner's Coalition
About PETA and the Humane Society of the United States
Secret World Inside the Animal Rights Agenda
Please participate in the Samoyed juvenile cataract study.
If you can provide a DNA sample from affected dogs, their sires, dams, or littermates, click here for a form (PDF) to request free cheek-swab DNA collection kits.
Click here to download the Adobe Acrobat Reader for free to read PDF files.